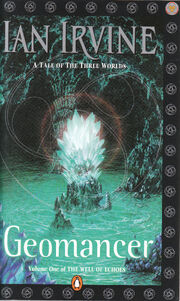 Geomancer is the first novel in The Well of Echoes quartet.
Plot Summary
Edit
Tiaan, a lonely crystal worker, is using a new crystal when she begins to have extraordinary visions. The crystal has woken her talent for geomancy, the most powerful of the Secret Arts, and the most perilous. Geomancy is a magic that humanity's allies and enemies alike are desperate to control, but it is deadly to the user.
Falsely accused of sabotage by her rival, Irisis, Tiaan flees for her life. She is captured by the alien lyrinx, Ryll, who plans to use her in his dreadful flesh-forming experiments. Only geomancy can save her. Struggling to control her talent, Tiaan follows her visions all the way to Tirthrax, greatest peak in the Three Worlds, where a nightmare awaits her . . .
Important Characters
Edit
Locations
Edit