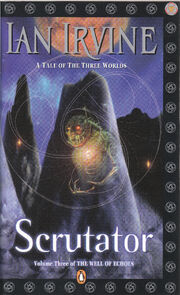 Scrutator (UK title: "Alchymist") is the third novel in The Well of Echoes quartet.
Plot Summary
Edit
The node has failed, rendering humanity's battle clankers and the Aachim's constructs useless. The battle has been lost. Now hordes of alien lyrinx are swarming out of the tar pits of Snizort, intending to fall upon the survivors and destroy them to the last man.
Tiaan, crippled and unable to walk, is held prisoner by a vengeful Vithis, who is determined to extract her geomantic secrets from her at any cost. For his failings, Nish has been cast out and branded a traitor, while Irisis, accused of high treason, has been forced to flee for her life.
The fate of humanity is dependent on the survival of one wily old man, Scrutator Xervish Flydd. But Flydd has been blamed for the defeat at Snizort. His enemy, vicious Chief Scrutator Ghorr, has expelled him from the Council and stripped him of all rights. Now Flydd is condemned to die a brutish death as a slave, hauling ironclad clankers out of the battlefield mire until his heart bursts under the strain.
Important Characters
Edit
Locations
Edit